About Pulastya Eye Clinic
Pulastya Eye clinic is located centrally at posh location in East of Kailash. It is one of the best Eye clinic in South Delhi. It is dedicated to quality care in a very warm & friendly atmosphere. The Pulastya Eye Clinic mission is to provide the highest quality, up to date and compassionate eye care facilities for all patients.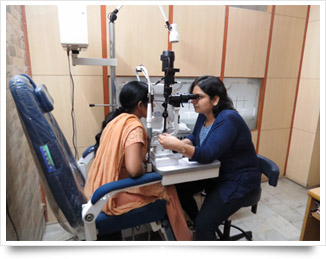 We provide all the latest and safe procedures under expert guidance of eye specialist Dr. Pooja Mehta, M.B.B.S, D.N.B Dr.Pooja Mehta is a DMC and NBE (National Board of Examinations ) certified Ophthalmologist and specialized in diagnosis and management of eye diseases.
At Pulastya Eye Clinic, we give you an honest, professional advice. We are dedicated to providing top quality eye care services, eye testing at reasonable cost. In a short span Pulastya Eye Clinic has emerged as the first choice of patients suffering from eye problems.
At the Pulastya Eye Clinic located in Delhi, we aim to offer our patients a professional eye care service using the latest surgical techniques. Doctor is highly trained and has years of experience in his field of expertise. The staff here provides a friendly, confidential and professional service in a comfortable and relaxing setting.